My current Alice In Wonderland obsession continues apace. I simply had to attempt something Alice in cake form, after all cakes play a vital role in the story, but how could I incorporate her in patisserie?
It was something that was troubling me for a couple of days until
I was just dozing off the other night when it struck me that it might be possible to draw on rice paper with an edible ink pen, so as soon as I got up the next morning I gave it a go with quite pleasing results, sketching an Alice and a Mad Hatter.
My Alice on the right next to the original on the left
My Mad Hatter on the left next to the original on the right
I made a couple of quick and dirty rectangular sponge cakes and iced them with ready-to-roll icing, cut out the two pictures and placed them on the faces of the cakes.
I then used a little Easter bunny cutter I had to make lots of White Rabbit shapes and framed each cut-out using the bunnies.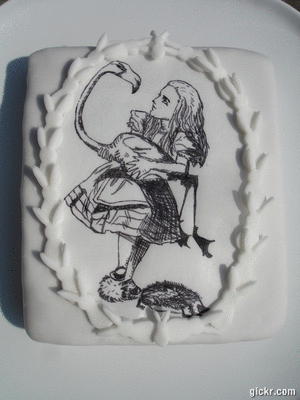 This post links up with Handmade Thursday over on White Lily Green, go take a peek at the other makers.